Adrenaline Junky? Take the Grand Canyon's ONLY 1-Day White Water Rafting Tour!
How to Book:
Phone bookings only.
Call Keith: (702) 530-8687
Must be paid in full in advance.
All sales final. No refunds. No reschedules. No exceptions.
Price:
A. Williams & Flagstaff, AZ: $639
B. Peach Springs (self-drive) w/ Heli: $539
C. Peach Springs (self-drive): $439

Surprised? I was. But upon reflection it makes sense. Most river tours are 1-day float trips, which end at Lee's Ferry where the rapids start. To go further, you have to embark on a pricey 3-to-16-day expedition.
But there's a way around that.
First, the one-day rapids trip I'm referring to starts at Flagstaff or Williams, both key jumping off points in Arizona for tours that get you to the bottom of the South Rim.
If you are lodging in Tusayan (home of Grand Canyon Airport) or in Grand Canyon Village, drive 60 miles south to Williams. Here are Google Map directions.
Is it worth the drive? Heck, yes! PLAY the video & see why:
Transport is via deluxe van, which will head west on the I-40 four-lane highway before turning off onto historic Route 66 to Peach Springs, the capital of the one-million-acre Hualapai Indian Nation.
From here, you'll take Indian Route 6, which will take you into the heart of the reservation before descending 4,000 feet through nine periods of geological time to Diamond Creek beach on the banks of the Colorado River. You are now officially at the bottom of the canyon. Beats doing the standard 9-mile, 4-6 hour overnight hike, right?
Officially, this is known at Mile 225 on the Colorado River. You'll get a quick safety brief, collect your essentials and board the 8-man motorized rubber pontoon boat. These watercraft are expertly configured with motor at the back, gear in the center and passengers on the sides and front (my favorite place). River current averages 4 MPH. Boat motors push cruising speed to 8 MPH so you get a more intense rapid ride.
This is a 40-mile raft trip. During the first 18 miles, you'll encounter a series of rapids ranging from Class 1 to Class 7 (the highest is 10) including:
Diamond Creek Rapids (this trip holds nothing back!)
Travertine Rapids
Bridge Canyon Rapids
Gneiss Canyon Rapids
Separation Rapids
Of course, there's more but these are the most notable and challenging.
The tour concludes near Pearce Ferry, which is outside the mouth of the Canyon near the point where the Colorado River feeds Lake Mead, the largest reservoir in the western U.S. Here you'll transfer to the 4x4 van and head back to Williams or Flagstaff.
Total tour time: 12 hours.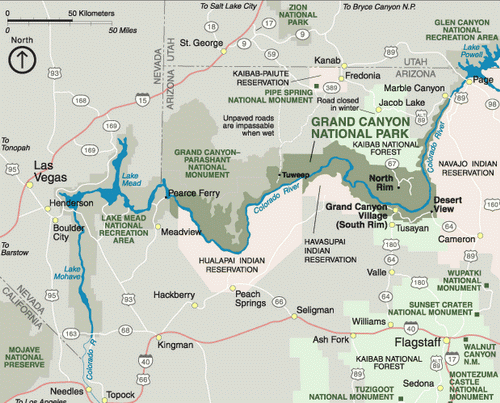 Colorado River
This is one of the U.S.' major waterways. With up to 6 million years under it's belt, the river is also one of the oldest. Headwaters are in the central Rocky Mountains in Colorado. From there, the river winds its way southwest for 1,450 miles until it reaches the Sea of Cortez in northern Mexico. Midway, the river sliced through the Colorado Plateau to form the North Rim and the South Rim of the Grand Canyon. The part you'll be rafting is the final third of this unique geological area.
The River is famous worldwide for it's white water rafting opportunities. Each year, more than 22,000 people do the Grand Canyon section, thus making it the "granddaddy of all rafting trips." Noted earlier, commercial river trips, which range from three to 18 days, typically start at Lee's Ferry and end at Diamond Creek or Lake Mead. Private river trips are extremely difficult to organize and can take up to 10 years to get authorized!
Hualapai Tribe
The Reservation is comprised of one million acres along the Colorado River and the Grand Canyon. Topography ranges from rolling grasslands and thick forests to rugged canyons and arid desert. Elevation, too, is all over the map, ranging from 1,500 feet to 7,300 feet.
More than 1,600 Hualapai (translates into "People of the Tall Pines") inhabit this remote area, most of which live in Peach Springs (PS), the capital and former host to acres of peach trees. The closest major town to PS is Kingman, Arizona, which is located 55 miles west on Route 66.
The Tribe, which is a recognized sovereign Indian nation, is also famous for the development of Grand Canyon West, which is a swath of rim-top land that hosts the Grand Canyon Skywalk, an airport, a heliport (the same one where you'll land once you end your rafting tour) and a number of famous lookouts including Guano Point and Eagle Point.
What to Pack
Unlike float tours, white water trips require a small bit of preparation. Here's clothing to pack:
Water sandals
Swimming suit
Sun hat w/ chinstrap
Long-sleeve cotton shirt
T-shirt
Dry bag w/ extra set of clothes
Plastic bag for wet clothes
Quick-dry shorts
Here's a quick list of gear:
Sunglasses w/ leash
Sun block (50 SPW)
Lip balm
Water bottle w/ tight fitting lid
Ziploc bags (for your wallet, smart phone, digital SLR & other personal effects)
These are all-inclusive tours and come with everything including all taxes, fees, Permits, food (lunch is a grinder sandwich; vegetarian must be arranged prior to departure), rafting equipment (including life vests), drinks and professional river guide.
Frankly, I'm a huge fan of all-inclusive packages, especially when it comes to more demanding trips like white water rafting. Permitting in and of itself can get Kafkaesque. More generally speaking, however, is the idea of a planning for a trip like this at the destination -- I'd prefer to relax and enjoy the canyon than lose sleep over logistics.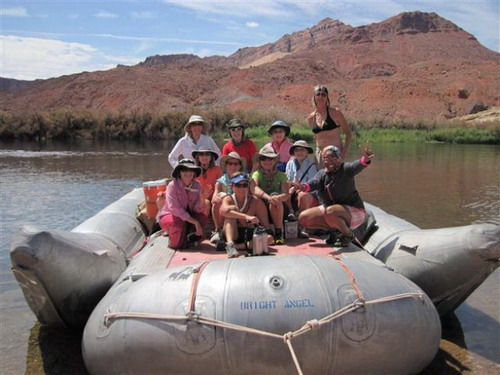 RSVP & Deals
This is the only rafting tour of its kind so expect sellouts. If you decide to take the plunge, I urge you to book your seats one to two weeks in advance. Especially if you're a group of two or more people. The benefits of advance reservations are plentiful, but the key reasons include a) you get a spot and b) you pay less for it.
Which brings us to deals. The best are clearly on the Internet. The savings you net are a reflection of how much you just saved the operator in processing and handling the booking. However, and this is a HUGE caveat, you must complete the booking on the website. Failure to do so can and will result in paying the full retail price. You'll receive a confirmation email once you finish payment. Inside, you'll receive a confirmation number and exact pick up times.
Book Your 1-Day White Water Raft Trip Today!
Williams, Flagstaff, AZ: US$ 639
Peach Springs (self-drive) w/ Heli: $539
Peach Springs (self-drive): $449
Call Keith: (702) 530-8687
Alternatively, here's an overview of 1 day float tours.
Cheers!