You haven't "done" Grand Canyon National Park until you've flown over it in a
South Rim helicopter
. Think about it. The Park is more than a million acres. Ground tours only cover a fraction of this. Take an air tour and you got a shot at seeing nearly 3/4 of this behemoth. That's what I call covering a lot of ground. It's also the only way I know where you'll look back at your canyon experience without any regrets. Let's get you airborne. Here's my list of the Top 3 tours. Choose any of them and you can't go wrong.
#1

30-Minute Basic

I call this one the "no-nonsense" tour. Flight is South Rim to North Rim and back. En route you'll hover over the Dragoon Corridor, the widest, deepest part of the National Park, before turning back at the majestic North Rim. Great for budget travelers. Excellent way to see as much of the Park as possible if you've got only one or two days. Airtime is 30 minutes.

Click Here for Prices & Flight Times
#2

30-Minute Deluxe

Luxury version of basic air tour. Uses the state-of-the-art EcoStar 130 helicopter, which boasts 25 percent more cabin space, theater-style seats, a 180-degree windshield and a Fenestron tail rotor that feels like your riding a purring cat. Personal digital headsets for communication with pilot and fellow travelers. Deluxe, all-season climate control. Strongly recommend upgrading to this tour, even if it entails hunting down spare change in the couch.

Click Here for Prices & Flight Times
#3

50-Minute Deluxe

The total package. Gives you up to 50 minutes of airtime! Heads east along South Rim before making a U-turn at the Park Boundary and flying back along the stunning North Rim. Key points of interest include Desert Watchtower, Zuni Corridor, Colorado River, Painted Desert, Imperial Point and everything else included in the other two tours. This flight uses an EcoStar 130, and can accommodate 6 passengers plus pilot. Do this tour and you'll literally "own the air."

Click Here for Prices & Flight Times
Grand Canyon Airport
These flights do not come with complimentary shuttle service. You must either have your own vehicle or arrange transportation (e.g. Bright Angel Transportation Desk at Grand Canyon Village). Getting to the heliport is a snap. It's a 10-minute drive from any South Rim Lodge, a five-minute drive from all Tusayan hotels and a 1.5-hour trip from Williams and Flagstaff.
Check-In Tips
Confirm your flight 24 hours before departure, and check-in at your respective terminal 30 minutes prior to take off. I bring up check-in time because you need to add this to the travel time from hotel to heliport. There's a weigh-in before you head to the passenger lounge. Most air tour operators will charge you for two seats if you are more than 275 pounds.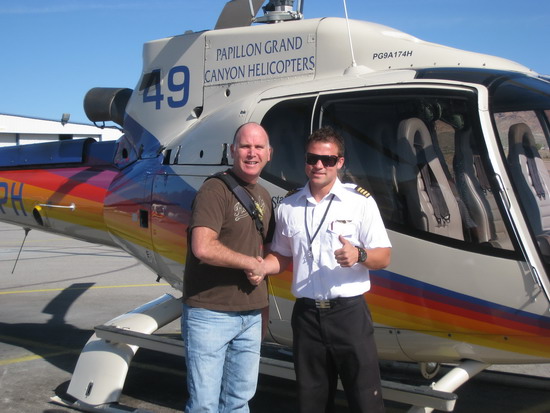 Early Risers
Best time to fly is in the morning. I know it's a pain to set the alarm clock during vacation but these early flights are worth the effort. Why? Because this is the time when the visibility is best and the air is smoothest. If you can't get an a.m. flight, don't sweat it. Flying over the canyon is awesome any time of the day; it's just more optimal after breakfast or during a sunset.
RSVP - It's a Good Thing
Avoid waiting until the last minute to book your tour. Most definitely don't do it upon arrival at your destination as you will pay out the nose for a seat or not get one at all. Rule of thumb is 72 hours before you want to fly. Even better, make that reservation a week in advance and you'll pretty much get the time you want.
Online Savings
I'm sure you've heard this before but the best place to purchase travel cheaply is on the Internet. You'd be surprised how many people don't believe that. I personally buy all my trips on the Web and I regularly save up to 35 percent. I'm not special. Anyone can get savings like these.
Make It a Grand Day!