Flying over the Grand Canyon on an airplane tours is one of life's greatest thrills. But before you hop on board and buckle up, here five key tips to making sure you land the perfect tour.
The first tip that comes to mind is "which rim to visit." You have two from which to pick: The West Rim and the South Rim. The West Rim is nearest to Las Vegas while the South is 277 miles way to the east.
Flight time from Las Vegas to the West Rim is about 30 minutes ad to the South Rim it's 60 minutes. There are no connecting plane flights between the two rims. Lastly, there are flights from Phoenix, AZ, but they go only to the South Rim.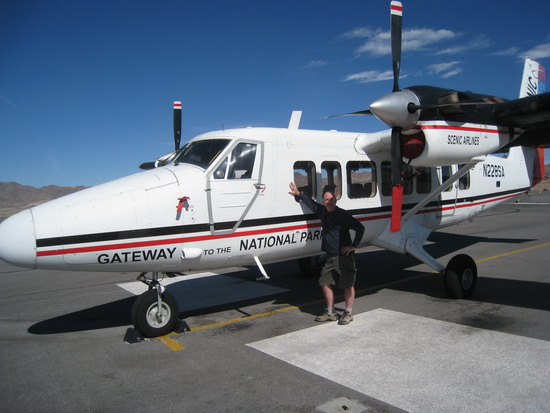 Which Rim?
As for which rim to visit, it depends on what your interests are. If you like thrills and adventure, I'd advise going to the West Rim. For incredible natural beauty, I'd say go to the South Rim. No matter which you choose, the Grand Canyon is spectacular so it's a win-win.
My next tip has to do with window seats. Not many folks know this but you can upgrade your ticket to include a window seat for an additional $10 per person. Frankly, I think this is a great idea and definitely worth considering when you check in for your flight.
Another tip I have regards landing tours. These are the ones that land at Canyon and come with a host of side trips. The best one is at the West Rim and comes with a helicopter ride to the bottom and a boat ride on the Colorado River.
South Rim Flight
Another landing tour that I'm big on is the Vegas-South Rim trip. The flight gets you there in under and hour (compared to 5 hours if you were to take a bus or self-drive) and it comes with a 2.5-hour bus tour inside the National Park. Further making this package a great value is that it comes with lunch and free hotel pick and drop off.
Then there's the issue of these trips selling out, which happens frequently. My advice to you here is to book your airplane tour at least a week or two in advance. This is especially important if you are a group of two or more people. Indeed, these airplanes hold up to 19 people but they fill up fast.
Lastly, and this is the most important tip of all, book your flight online. This is where you'll find the best price. Make sure to review the fine print prior to your purchase, especially the cancel policy (you want one that lets you cancel within 24 hours of your departure time). Moreover, complete your transaction on the website in order to qualify for the Internet rate.
Conclusion
I hope this article about Grand Canyon airplane tours and my key tips was helpful. As you know, the Canyon is on everyone's list of things to do. Thus try to get your seats as soon as you can. Otherwise, you could be stranded on the tarmac. And once you've lifted off, get ready for the trip of a lifetime. The Canyon is the best of the Seven Wonders of the World and shortly you're going to see why.
Travel on!