I've been getting a lot of inquires about Grand Canyon jeep tours at the South Rim. Makes sense. Spring is nearly here and it's a great time to be outside. Especially in an open-air Jeep cruising beautiful Desert View Drive and taking in all the National Park has to offer.
The ONE major thing I think separates Jeeps from the pack are the guides. Listen, I've always been a guy who believed in doing it himself. Grab a guidebook, download an app, mark up a map and, BOOM, I've convinced myself that I'm an instant authority. Which just isn't the case. Inevitably, I'm kicking myself because I missed the ultimate "insider's" landmark.
Jeep Guides Rule!
And that's why guides are good. Particularly the guys driving the Jeeps. Think about it. The Grand Canyon encompasses more than 1 million acres. It's more than a mile deep, cuts across the Kaibab/Colorado Plateau for 277 miles and is more than 5 million years old. What I'm getting at is there's a lot of "information" to take in. And we've only scratched the baseline stats.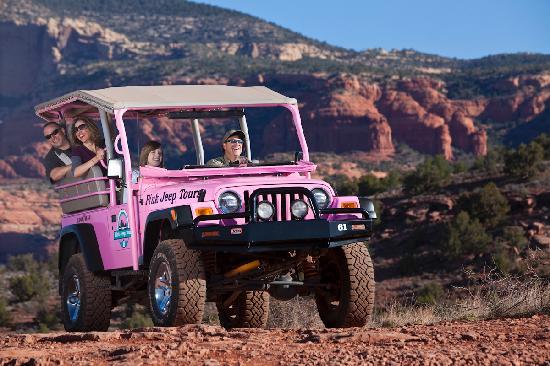 Guides blow through these preliminary facts (and more) with ease and get to the good stuff that comes from years of experience driving the "hiways and byways" of the National Park. Further, they know the best times to go to Mather Point and Yaki (overloaded during peak times!) and can get you past the ever-growing traffic snarls that plague the Park.
But let's back up a step. Right now, you have two "mechanized" options when exploring Grand Canyon on the ground: 1) Taking the Park's shuttle buses; and 2) self-driving. The shuttle buses are free but you are captive to there schedule. Moreover, they are packed to the gills during high season (March through October). Basic Jeep tours, by contrast, max out at 6 people (up to 8 with kids) while safari-style Jeeps can hold up to 13 people.
Why Limits Matter
Limiting the number of passengers is a HUGE benefit. How? For starters, you and your guide are calling the shots. More time at Mather? Do it. Want to shop harder at the Yavapai Geology Gift Shop? Go for it! Get off road and visit a secret fire tower, buckle up! Further, shuttles make a gazillion stops and at each and you have upwards of 30+ people getting on and off. This eats into your precious time at the Park, especially if you're trapped in the back watching Jeeps fly by unimpeded to their next exciting destination.
Jeep tours come with lots of options. All start outside the Park in the small town of Tusayan, the gateway to the South Rim. Some meet at the IMAX Theater while others pick you up at the McDonalds (there's only one and once you book I'll provide you with a Google Map that goes form your hotel to the pick up location), then it's onwards via 4x4 into the National Park.
The basic tours usually get you up to Grand View Point, which is off the beaten track for most visitors unless you know what you're doing. The great thing about Grandview is, well, the view. It's regarded by pros as being the most majestic of vistas inside the Park. Then you'll high tail it to other key points of interest like Mather, Yaki, The Village and more while getting first-hand accounts about Canyon history, geology, gossip (yes, there's quite a lot going on up here) and wildlife.
Deluxe Jeep Trips
The deluxe tours include Grandview but drive on past Moran Pt., Zuni Pt., Lipan Pt. (awesome!) until they reach Desert View, which is basically the National Park's eastern boundary. Here you'll explore the Desert Watchtower, an ode to local Indian culture designed by the inimitable Mary Colter, before getting out to a vista that lets you see the incredible merging of the Little Colorado River (turquoise blue) and the Colorado River. It's here you'll also see the Canyon's most intense rapids, which can hit upwards of 20 feet during heavy rains!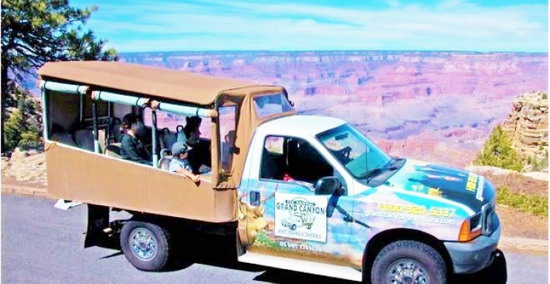 Lastly, there are a number of Jeep tours designed particularly for the travel connoisseur. These are essentially deluxe tours except combined with a sunset or a short hike (between 2-6 miles depending on fitness of the group) down Bright Angel Trail or South Kaibab Trail. I also have Jeep packages that combine helicopter rides, airplane flights, off-road fire tower and Indian rock art explorations. It's pretty much sky's the limit when it comes to these might Jeep trips!
(Note: These tours range in time from 2-4 hours, depending how many options you add to the trip. Having done all of them, I developed a formula. Goes like this: Two hours in a Jeep is like four hours banging around the Park unguided on your own. The point I'm trying to make is that Jeeps are a very efficient use of your time at the SR.)
Conclusion
I hope this introductory article about South Rim jeep tours inspired you to consider taking one. Like I said, I've become a firm believer that guided trips and especially these 4x4 treks are a much more entertaining, fun and powerful way to experience Grand Canyon National Park. And considering the number of options available, I'm confident there's a Jeep trip for all ages, fitness levels, and budgets. So buckle up! It's time to REALLY hit the road!
Book Your South Rim Jeep Tour Today!
Call Keith: (702)530-8687.
Travel on!