The best way to get to the South Rim of the Grand Canyon from Las Vegas is by airplane. Sure, you can go by bus or rent a car but it will take you 5.5 hours ONE-WAY to get there. The plane, by contrast, takes just 60 minutes.
I understand that there are a lot of travelers who don't mind spending a total of 11 hours on the road, and if that's you, then you'll want to check out this bus tour. But I prefer getting there quick, and that's why I'm always taking the plane
Why Maverick
Frankly, there are only two companies that I'd recommend for this trip: Maverick and Papillon. Maverick costs more but there are a number of key reasons why and I think that if you have the budget they are the company to go with.
So let's do a little compare/contrast and see why I'm favoring Maverick....
For starters, Maverick's airplane tour takes off from the Henderson Executive Airport, which is about 10 minutes south of The Strip. Papillon's takes off from Boulder City Municipal, which is about 35 minutes from Las Vegas.
Sure, travel time like this might not be much of an issue for some of you but when you total it up (to and from your Vegas hotel), you're looking at more than an hour for Papillon and about 20 minutes for Maverick. Believe me, after a day of sightseeing, the difference is noticeable.
Then there's the aircraft (and this is a huge difference). Maverick uses a Beechcraft 1900D, which flies a lot like a Lear Jet. It's a very modern aircraft and very lavish in it's amenities. Papillon, on the other hand, uses a fleet of aging deHavilland Twin Otter prop plans that from my experience aren't terrific during "bumpy" weather but get the job done.
Add a Helicopter Ride
The South Rim air tour from Vegas can also be upgraded to include a helicopter ride that goes from South Rim to North Rim and Back. And it's here again where Maverick differentiates itself from the pack. Instead of using the "average" Bell Ranger helicopter for the tour, Maverick uses ONLY the superior EcoStar 130.
The EcoStar, like the Beechcraft 1900D airplane, is an incredible aircraft. The EC boasts up to 25 percent more cabin space and is configured with stadium style seats that look forward into a spectacular 180-degree windshield. The upshot to all this is that all passengers in an EC 130 get an outstanding view of the Canyon both in front and below.
This particular tour is one of the longest offered and lasts up to 9.5 hours so be prepared to dedicate an entire day to it. My suggestion is to take the earliest flight possible, which, in the case of Papillon, will be your cheapest option (it's referred to as the "early bird"). If you can't get the first flight of the day, definitely try to secure the mid-morning departure. If those two slots are booked grab the 12 p.m. departure because that's the last one of the day.
Canyon in 1 Day!
As noted, these trips are a full day so come prepared. Most travelers will be doing this flight during summer. Even though the South Rim is at an elevation of 7,000 feet, it still gets hot. My recommendation here is to bring a hat, lightweight long-sleeved cotton shirt, sun glasses (the Arizona glare can be hard on the eyes), a brimmed hat and sun block.
Which brings me to the issue of food/lunch.
You will get hungry. I do suggest loading up on the free coffee and pastries that come with the trip. It's also a good idea to come prepared with snacks. Maverick and Papillon include a lunch as part of the package. Maverick's tends to be more on the "gourmet" side (a/ka/ delicious) while Papillon's is a box lunch and VERY basic. I can't provide specifics because both change the "menu" often but on average Maverick's lunch is the better of the two.
If you fly out from Henderson, NV, or Boulder City, NV, all flights land at Grand Canyon National Park Airport, which is located in the small town of Tusayan, AZ. Both the basic and deluxe (rim-to-rim helicopter ride) include a 2.5-hour tour inside the National Park. In this instance, Papillon will use a luxury bus (can seat up to 40+ people) while Maverick will use customized vans, which make getting around the Park's key landmarks much faster (Translation: you spend less time getting on and off the bus and more time sightseeing).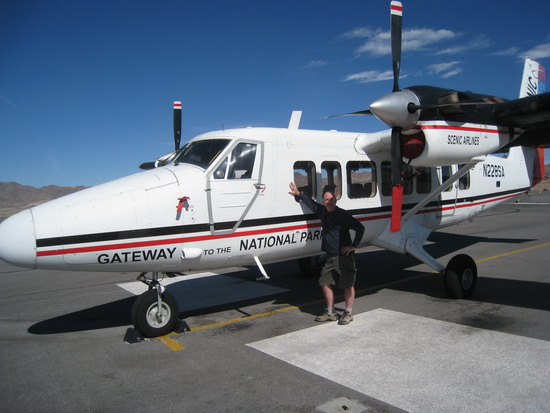 So those are the major differences between the two companies and their South Rim air tour. But before we wrap, I want to bring your attention to a very cool NEW version of the tour just now offered by Papillon. It's the one that takes you around the National Park in a customized Jeep. I love these vehicles and they are super comfortable. Please note that you will not go "off road." But what's great about the Jeeps is how quickly you go from one key lookout (e.g. Mather, Yaki, Yavapai, Desert Watchtower) to another. Frankly, it's the only way to TRULY get around the Park in a day.
Conclusion
I hope this article shed some light on which Las Vegas airplane tour to the South Rim is best. There are only two operators that I recommend, Maverick and Papillon. I know you guys like to save money as much as I do but this is a case where I'm going to favor Maverick, which is the more expensive option. I'm going this route because the overall quality of the tour is simply superior (especially when you upgrade to include the EC 130 helicopter ride). On the other hand, I REALLY like Papillon's package that includes the Jeep tour. In the end, it's up to you, your budget and your objectives. If you need to discuss, call me at 702-530-8687 or click here for Live Chat and I'll walk you through the options.
For your convenience, here are links to all tours mentioned in this article. Click for details, pricing & availability.
Maverick
Papillon
Travel on!