If you are looking for airplane tours from Las Vegas to the Grand Canyon, things just got a lot more interesting.
There used to be only a handful from which to choose. The most popular ranged from the simple air tour to the one that came with a helicopter ride to the bottom and a float on the Colorado.
It's been my experience that most people were keen on taking the package with the most options. However, many wanted to skip the boat or the skywalk. Unfortunately, that couldn't be offered.
Until now.
Fresh off the shelf are a handful of tours that bundle the most popular options that travelers have been begging for. The one that I'm POSITIVE will have the biggest impact is the airplane/helicopter package.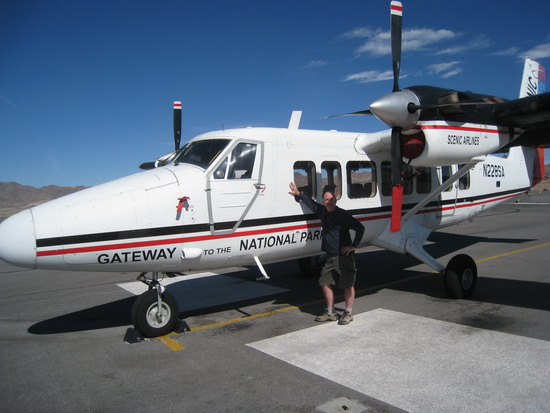 Basically, this trip starts with a flight out of Las Vegas, goes over Lake Mead and Hoover Dam before landing at Grand Canyon West Airport. From there, travelers are transferred to a helicopter and take the 10-to-12 minute descent to the bottom where they'll stay for 30 minutes.
Perfect!
But it gets even better...
No Boat
Take that same airplane + helicopter tour and now add the Skywalk to it. Before, you had to take a boat tour as well. Not any more, and I can already hear legions of you out there screaming "I love it!"
Me, too.
Oh, and before we move on, there's one last package that was recently released. It's basically the West Rim landing tour with optional lunch. Doing it this way makes the trip even cheaper but you will be responsible for your own meals/food. For some, this is fine. But I will say this, if you end up having to buy food from any of the concessions at the West Rim, you will pay a premium. So think this tour through if you are considering it and understand that you will be at the West Rim for 2+ hours and you will get hungry (at least I do).
Related Link: How to book these new Las Vegas Airplane Tours to the West Rim
Don't Be Left Behind
One thing that will always remain the same in regards to these tours is their popularity. Especially during summer. And folks, based on what I saw over the Easter Holiday, expect trips to sell out fast. How to beat this? Book in advance. I say at least a week ahead of time. You can push it and yes you MIGHT get seats but who wants to be "one edge" during their vacation, right?
Not me.
And that's why I always urge advanced bookings. If you want to really do it right, make your booking online. That's the only real solid way for you to get the best deal on these new airplane tours. I know there's concern about secure transactions these days but I've requested that systems be triple checked and I can assure you that everything is lock tight. So, please, book with confidence.
Or call me at (702) 530-8687 and I'll personally handle your booking at no extra charge. It's a service I've been offering readers since we first opened our doors and it won't change. Do us a favor, however, and have the first name, last name, and approximate body weights of all passengers at the ready. We need all that information in order to fill your order.
International Visitors
For our international guests, no worries when it comes to converting stones and kilos to pounds. We do it all day and can quickly do the math on your behalf. Price conversions will take a big longer but we can do those for you as well. Just be patient as our nimble fingers (and minds) do the arithmetic. Oh, and this applies to everyone: Please jot down or print your confirmation #. You will need this to board the aircraft, as well as a government issued photo ID.
Finally, a quick word about the weather.
We are at the tail end of spring and it's warming up out here. Once summer is officially here, it's "game on" with the heat so prepare accordingly. In a nutshell, temperatures will start to break 100 degrees and do it with regularity once we get into mid-May. To combat the heat & the sun, I advise wearing a hat and sunglasses and liberally using sun block. Not a bad idea to bring a long a lightweight, long-sleeved cotton shirt, either.
Conclusion
The purpose of this article was to update you on several new Las Vegas airplane tours to the West Rim of the Grand Canyon. These new flights come with some key options like a helicopter to the bottom or helicopter & full-access to the Grand Canyon Skywalk. The old standards are still in play but it's my opinion that these new trips will really take off in terms of popularity because they were based on traveler feedback. In other words get these trips while they're "hot!"
Until next time, travel on!