Spring and summer will be upon us shortly. That's means longer days and the return of the Las Vegas helicopter sunset tours to the Grand Canyon! These flights are a runaway favorite with travelers from now until early November, which we in the travel industry call the "shoulder season."
The great thing about "sunsets" is that the majority take off from helipads located on or near the Las Vegas Strip. So, for example, if you are staying at the Bellagio, expect a 10-minute-or-less ride to the chopper.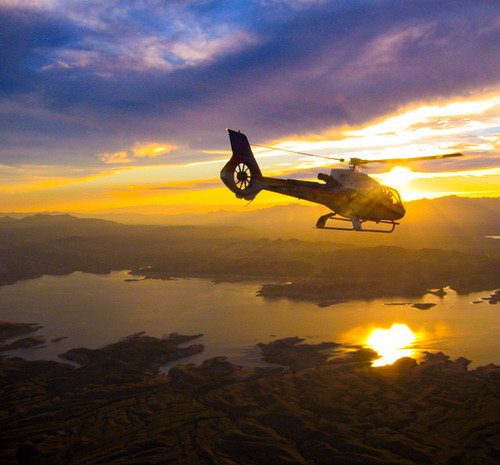 Moreover, it's highly likely you'll be making the commute in a stretch limo, which I'm a big proponent of because travelers who take these tours are usually commemorating a special occassion or looking to make a major impression on their time spent in Vegas.
Seriously, RSVP
For obvious reasons, these flights depart and hour before dusk and are usually the last flights of the day. It also means that there's a finite number of them available so my advice is to ALWAYS book them a week or two in advance. Don't even bother trying to get one within 48 hours - they'll be sold out.
By far the most popular in this category is the aerial. It roars out of Vegas and makes for Lake Mead, which in the past I never got particularly excited over but nowadays the water drop is so substantial that I'm telling people to see it now before the Lake becomes a puddle (yes, I'm being facetious but in fact there's a serious drought going and Lake Mead could in the near future be a shell of itself.)
Anyhow, after the Lake you'll make for Hoover Dam. In addition to the Canyon itself, I find the Dam totally intriguing, especially from the air. And let me address readers who ask about the difference between seeing HD from a heli or plane. Clearly, helicopter is more preferable because they fly at a lower altitude and actually circle and hover over the dam. Planes simply fly over it and continue onwards.
The Strip
This aerial tour gets into Grand Canyon airspace, flies over the National Park, the Colorado River, the Skywalk and more before turning tail and returning to Las Vegas. And here's where it gets interesting. Instead of the conventional fly-and-land, the chopper will head up to the north part of the Strip by the Stratosphere Tower and bear south over Las Vegas Boulevard. It's during this stretch that you'll be directly over the famous Las Vegas Skyline. Now that's a nice bonus!
There are also sunset versions of the most popular landing tours. I'm not going to dive into all of them except the one that's captured the hearts and minds of traveler's year in and year out. It's called the Champagne Tour and like the air tour does all the key Canyon sites except it makes a 4,000-foot descent to the bottom for a once-in-a-lifetime picnic & bubbly!
Indeed, partaking in a light meal at the base of the National Park is special. But because it's happening during dusk, the whole experience is amplified. Many call this time at the bottom the "golden hour" and it truly is. I can't imagine a more sublime moment strolling next to the bank of the famous Colorado River as bands and rays of bullion highlight the Canyon's sandstone cliffs and buttes.
Conclusion
I hope this article about Las Vegas helicopter sunset tours to the Grand Canyon shed some "light" (yes, pun intended) on these spectacular flights. These adventures are very, very limited and ONLY happen at the end of the day. As such, I strongly, nay powerfully, urge you too RSVP at least a week or two ahead of time. I know it sounds like a lot of time to plan ahead but during summer especially I've seen these tours sold out for days. And remember that helicopters only hold 6 people - a fact that puts additional stress on availability. For those who book one of these "rare birds," kudos to you. You're in for one of the absolutely most special experiences Las Vegas can deliver. And I'm not being hyperbolic.
Go here for in-depth info on Sunset Tours.
Travel on!