Las Vegas Bus Tours to the Grand Canyon
(How to Pick the One That's Right for You in 10 Minutes or Less!)

Hey it's Keith Kravitz here and in this post I'm going to go over Grand Canyon bus tours from Vegas and how you can zero in on the one that meets your needs and budget in 10 minutes or less (more if you are a reader who prefers to go about things at a leisurely pace LOL).
3 Reasons
There are three reasons why Las Vegas is the King of bus tours: Proximity, selection and price. The West Rim, for example, is just 120 miles to the east. Top upgrades include helicopter rides and boat rides. And the cheapest, all-inclusive basic bus tour generally hovers in low $80 range.
Vegas trips leave ONCE in the morning, usually between 7 a.m. and 7:30 a.m. If you take a deluxe bus tour, you leave later, which, for many travelers is a key selling point. Expect to spend a full day on these trips with West Rim tours coming back to The Strip around 8p at night and South Rim tours coming back around 9 p.m.
All Bus tours go past Lake Mead and include a Hoover Dam photo stop. If you want to spend more time at the Dam, I recommend you take a separate Hoover Dam tour because there's not enough daylight to spend time longer than a photo stop. Then it's onward to whichever rim you chose to visit.
Which Rim
And that brings up a good point: Which rim to visit. Both are incredible and both offer the traveler a completely different experience. But to keep on point, the West Rim is where you go if you are looking for thrills and adventure. The South Rim is where you go if you want natural scenic beauty.
Let's dig into this a bit more...
There's a basic West Rim bus tour and it basically gets you there and lets you out to explore for up to 3 hours. Then there are the upgrades and these include a helicopter ride to the bottom, a boat down the Colorado River and tickets to the internationally famous Grand Canyon Skywalk.
If you are unfamiliar with the Skywalk, it's an all-glass bridge that lets travelers walk about 70 feet over the Canyon's edge until one is standing about 4,000 feet over the bottom! It's not for the faint-of-heart but the experience is incredible and the views of Eagle Point and Guano Point are breathtaking.
#1 Bus
The most popular West Rim bus tour is the one that includes Skywalk tickets, and I understand why because if you decide to purchase Skywalk tickets at the West Rim you'll pay a lot more. However, I believe that the Canyon is an once-in-a-lifetime experience and thus you've got to give serious consideration to adding a helicopter ride to the bottom, which is ONLY available on bus tours from Vegas to the West Rim.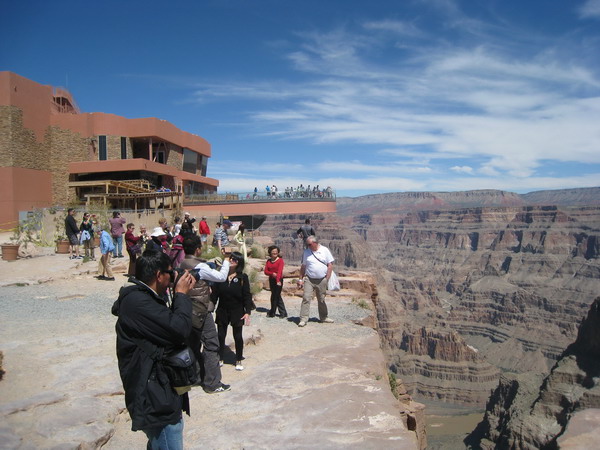 With Skywalk in background, a visitor gets off a shot of majestic Eagle Point.
The South Rim is 270+ miles from Las Vegas. It takes 5.5 hours to get there. Regardless, this tour sells out all the time. The trip follows the same route as the West Rim bus but heads further east through northern Arizona until it reaches the South Rim entrance gates. You'll go inside the Park and from there you up to 3 hours to explore. I definitely recommend checking out Mather Point, Yaki Point, and Grand Canyon Village.
There's only one upgrade for South Rim bus travelers and it's a helicopter ride from South Rim to North Rim and back via the Dragoon Corridor, the widest and deepest section of the National Park. It's a heck of ride and I if you have the budget I totally recommend you do this trip. Further, photography is permitted while flying over the Canyon and the pictures I've taken are stunning.
All-inclusive
These Canyon bus tours are all-inclusive, which means everything's included and the price is fixed and you will not pay a penny more. They all come with lunch (vegas and gluten free upon request), a grab-and-go lite breakfast, multiple snack stops en route and all taxes, fees and fuel surcharges. It's no wonder they're popular with budget travelers, groups and families.
That said, I've noticed a SURGE in deluxe bus tour bookings. I wouldn't characterize these as buses, though. The vehicles used are more like customized mini vans and Jeeps. In most cases, the number of seats is capped at 12 people (conventional buses hold 40+ people and come with an on-board restroom).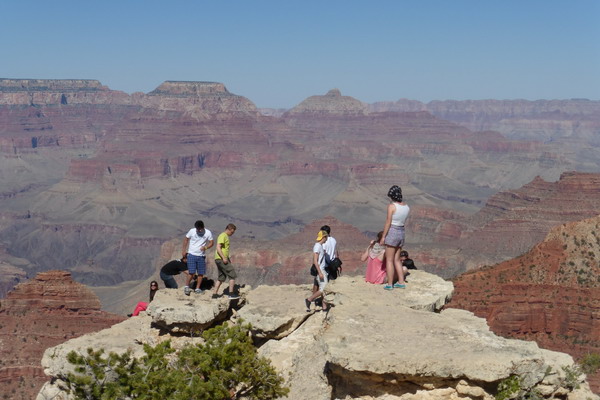 Travelers enjoy some of the BIG views that only the South Rim can deliver.
The great thing about these deluxe tours is that they are more personalized and that passengers can work with the driver to determine how long they stay at certain points of interest or if there's a consensus to see something else. These tours are also a LOT MORE efficient in that there's less time getting on and off the bus and more time sightseeing. Indeed, deluxe "bus" tours are more expensive but in my opinion they are the much better value.
Conclusion
I hope this post on Las Vegas bus tours to the Grand Canyon proved helpful. As I noted, I'm a big fan of the West Rim tour that includes a heli ride to the bottom. As for the South Rim, again, I prefer the one that comes with a heli that goes back and forth across the gorge. And if I had it all my way, I'd do it via a deluxe tour because it's faster, more comfortable and much more efficient. In the end, it's your trip to the Canyon and regardless which tour you do I'm confident you'll be satisfied with your choice.
Sincerely,