It's Important to Book Grand Canyon Tours Well in Advance

Personally, I believe all-inclusive Grand Canyon tours are the best way travelers can see and experience the wonders of this awe-inspiring place. To me, nothing else comes close.
Airplane and helicopter tours give you panoramic, birds-eye views of the canyon's rim, rock formations, and walls. Some West Rim helicopter tours even land on the canyon floor, thousands of feet beneath the rim that's towering overhead. Bus tours stay on the ground and take you "up close and personal" to several area highlights. And smooth-water rafting tours give you a unique perspective on the region's sights - you'll be floating down the river that carved out the canyon over millions of years.
Canyon tours are available at the West Rim and the South Rim of the National Park. Which rim should you visit? Really depends on where your start. The West Rim is just 120 miles from Las Vegas and is that point of origin's most popular destination. The South Rim is located in Northern Arizona (277 miles away from Las Vegas) and is the place to go if you are starting out from Phoenix, Sedona, Flagstaff, Page and other central Arizona cities.
The rims are distinctively different, too. The West Rim is arid and hot while the South Rim is lush and temperate (except for winters when there is always a chance of snowfall). Further, I recommend doing the West Rim if you are looking for thrills and adventure and the South Rim if you are in search of incredible natural beauty. The West Rim is the only place where helicopters are allowed to land at the bottom of the canyon. It's also the home of the incredible Grand Canyon Skywalk. The South Rim is packed with more natural sights like Mather Point, Yaki Point, Grand Canyon Village and Bright Angel Trail.
Quick note before we move on: Las Vegas helicopters tours only fly to the West Rim because the South Rim is out of their range. If you are in Vegas and really want to take a South Rim heli ride, I recommend taking an airplane/helicopter combo. The flight is just 45 minutes and, in addition to the rim-to-rim chopper trip, comes with a 2.5-hour ground tour and lunch. Relatedly, there are no connecting flights between the rims - if you want to do both you will have to book two separate trips.
All of these Grand Canyon tours include the services of a qualified, experienced pilot, driver or river guide. These folks are highly trained professionals, and they make sure the canyon's visitors stay safe during their tours, but they also share all sorts of interesting information about the sights and history of the area. Further, if you are taking an air tour (e.g. helicopter or airplane), you'll find that trip narrations have been translated in up to 10 languages!
Avoid Driving
Sure, if you want to stay on the ground you could always drive yourself - rent a 4x4 or drive your own. Unfortunately, the last ten miles of the trip from Vegas to the West Rim are over a rough, unpaved road. Why risk hurting your back by driving over a tooth-jarring road when you could avoid the problem by taking a smooth-riding, ultra-comfortable tour bus? And, if you drive yourself, you won't get the interesting background information that a tour bus driver would share. In my mind, that sort of information makes a great trip even better.
So, to me, all-inclusive Grand Canyon tours are the best way to see the National Park. I think they're a no-brainer.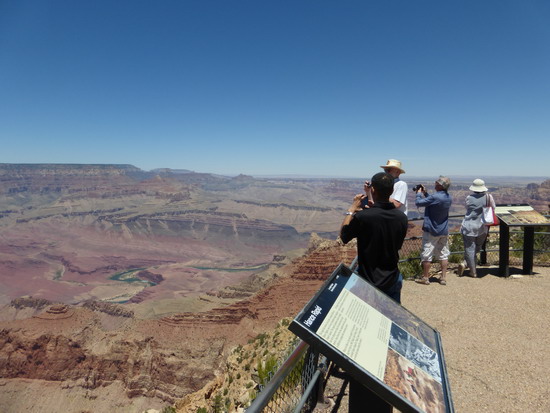 Seating is Limited
Of course, with all their advantages, all-inclusive Grand Canyon tours are extremely popular with travelers from throughout the world. Seats on all types of Grand Canyon tours are limited and often sell out, so you'll need to book in advance - I suggest at least a week or two ahead of your desired date. Otherwise, the time and date you want could already be fully booked. I know some people who waited until they arrived in Las Vegas, and they ended up being shut out. I can't imagine a worse feeling.
Booking all-inclusive Grand Canyon tours in advance also gives you some other important advantages. For one thing, you'll have a lot more choices for tour departure times and dates by booking ahead. That means you'll be able to schedule your tour around your other activities instead of being forced to resort to a tour with an inconvenient time or date.
Booking ahead also lets you get better prices on your tour tickets. You'll pay full retail price for your all-inclusive Grand Canyon tour if you buy your tickets at the last minute, but by booking ahead, you'll be able to find some deals.
Buy Direct
Hands-down, the Internet is the best place to purchase your tour tickets. In addition to being able to compare different tours, tour operators and prices, you'll get the best deals if you buy online. All the best Grand Canyon tour companies have special Internet discounts. In some cases you'll get 30% off full price just by booking on the tour operator's website. I know, because I've done it myself many times!
Make It a Grand Day!