Spring means helicopter tours up here at the South Rim. The weather is absolutely spectacular and visibility is picture-perfect. Now it's just a matter of selecting the right flight and in my opinion it's the 50-minute deluxe.
The Deluxe
Notice I said "deluxe." Not basic. And I have my reasons for this. The first is the flight itself. You take off from Grand Canyon National Park Airport in Tusayan and make a loop that covers nearly 75 percent of the park.
That's quite an achievement if you consider that the Park is more than a million acres in size. Here's another fact that puts it into perspective: The one-way drive from the South Rim to the North takes 5.5 hours.
That's pretty powerful stuff and it gets better. All deluxe 50 flights use the EcoStar 130. This world-class aircraft is 25 percent bigger than conventional helicopters, which means you'll have lots of personal space.
Big Window
In addition, the EcoStar is outfitted with a 180-degree windshield that offers the discerning traveler unparalleled views of the Canyon as it unfolds in front and beneath the aircraft (if you are a photographer you will love this helicopter!).
Inside, the EcoStar is equipped with front-facing, stadium-style seats just like those found in the most modern movie theaters here in the U.S. This might appear a minor benefit but in actuality it's huge because lesser aircraft (typically used on basic flights) are often configured with a rear-facing jump seat.
So those are my two primary reasons for going with the deluxe 50-minute flight. In fact, I just took one earlier in the month and was blown away by the sheer magnitude of the Canyon. Indeed, the basic 50 is a great flight, but Eco Deluxe is just downright superior by comparison.
Maps
Once folks lock in the 50 deluxe, I get this follow up question: "Where is the airport in relationship to my lodge inside the Park?" Simple enough and here's the answer: Just a bit more than 10 minutes by car. To illustrate that, here's a Google Map showing the route from Maswick Lodge to the Airport. And here's one that shows the route from Tusayan's Red Feather Lodge.
Pretty easy, eh?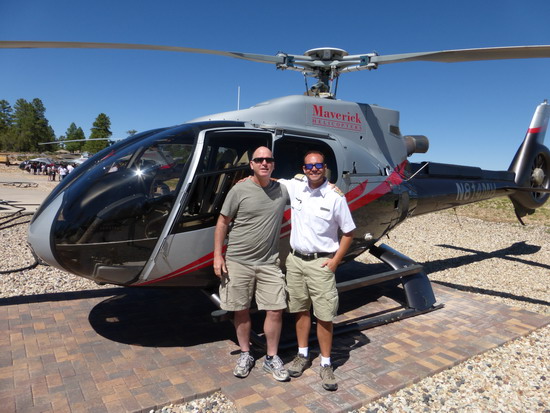 But remember: You need to check in 30 minutes prior to flight time so factor that in as you make your way to the airport (I'm especially referring to folks with morning flights who enjoy taking breakfast in the morning...please don't lose track of time and skip any restaurant where there's a significant wait).
RV's
For those of you staying at the Park's Trailer Village RV Park, yes, you can drive your RV to the Airport and park. There's plenty of space to accommodate your vehicle so no worries there. And for those of you without a vehicle, no problem, either, because there's a 24-hour taxi service. You can arrange for pick up and drop off from any of the Lodges or at the information desk inside Bright Angel Lodge.
Here's some logistical info you folks need to know. The South Rim is located in Northern Arizona near the town of Flagstaff. It's nowhere near Las Vegas, which lies 270+ miles to the West. If you want to do the South Rim from Vegas, I recommend either taking the 60-minute plane ride or the 5.5-hour bus tour. It really depends on how much time you have and your budget.
Now if you're flying into Phoenix or planning on spending time in Sedona, yes, the South Rim is the place for you. Indeed, there are helicopter rides out of Phoenix and Sedona but they are super-expensive and not in high-demand. Because of that I usually recommend that folks rent a car and drive up to the National Park. Also, by having your own vehicle, you can travel about the Park at your own leisure and pace.
Conclusion
OK, so I hope this article clearly showed you the reasons why I am a HUGE fan of the 50-minute deluxe South Rim helicopter tour. First it's the air time - by the time you land you'll have seen a majority of the Park. Then there's the helicopter itself, which in this case is the EcoStar 130. I also wanted to make clear where the South Rim is situated and that it's very far from Las Vegas and that if you decide to come over that you take the 60-minute direct flight. So that's it and I look forward to seeing you up here so you can see for yourself why helicopters are so incredible.
Until next time -