One of the first questions I get from Las Vegas visitors in Live Chat is "I want a Grand Canyon helicopter tour." To which I'll ALWAYS reply, "Air or landing." In many cases, it's air because it's the cheapest option. But there's a bit more to it than that and so I want to dedicate this post to it.
The "air" tour is your classic helicopter tour. You get airborne and go over Lake Mead, Hoover Dam, Grand Cliff's Wash, the West Rim and the Skywalk before you turn around and make for the homestretch. It's a good, honest tour and great for folks that want a "sampler."
Total Value
It's also economically priced so it tends to sell out, especially in the mornings. And if you know me well enough the following will be very familiar: Always book these flights in advance. Try to do it at least one week ahead of time and even more than that during summer.
If you're trying to get one of these air tours within 48 hours, forget it. They'll be sold out. I can nearly guarantee that fact if you are a party of two or more people because helicopters only hold 6 people per flight and a party of two by itself will occupy 30 percent of aircraft.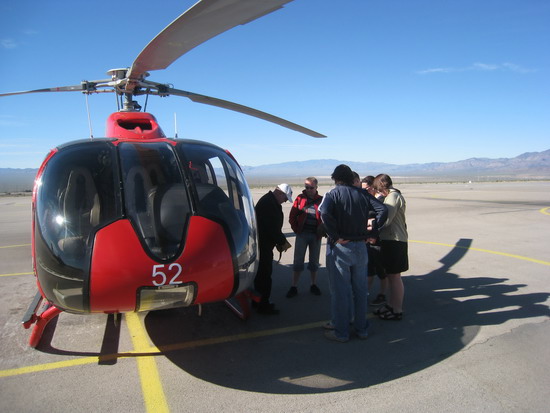 Why the Deluxe Matters
Do understand that there's a basic and a deluxe version of this trip. The BASIC is in essence you getting picked up at your Las Vegas Strip hotel and making a 30-minute shuttle ride out to Boulder City because that's where the municipal airport is located.
The shuttle over isn't as inconvenient as it appears. I frankly find it quite relaxing and enjoyable and its kind of nice to get off The Strip and see what else surrounds Sin City. Plus if you're chatty it's a great way to meet others who are in town on vacation.
However, I know there are a lot of you out there that would prefer being picked up on The Strip and chauferred to the heliport at McCarran International Airport. And to do this you'll have to go with the Deluxe option.
(To put it in perspective, McCarran is like 5 minutes from The Luxor. Or, if you are at a central Strip property like Planet Hollywood/Bellagio, it's about 10 minutes (all this depends on traffic). Bottom line here is that it's very quick to get to it.)
I also like the fact that the DELUXE version of comes with pick up by limousine. And a stretch limo at that! Further, I can't overstate how important a limo is if you are celebrating a special occassion like a birthday or a wedding or an anniversary. Whatever life moment you are commemorating, the limo to my mind seals the deal.
The Las Vegas Strip
The other aspect of this tour that makes it superior is the flight you get to make over the Las Vegas Strip on the way back into town. Folks, Vegas from the seat of a helicopter is pretty darn amazing and it's something I recommend all of you consider trying once in this lifetime. In this particular instance, you'll fly from the Stratosphere Tower toward the Luxor, a path that pretty much takes in the entirety of Las Vegas Boulevard!
Now you know the difference (and the benefits) between the basic and deluxe air-only helicopter tour to the West Rim from Las Vegas. I have just one more thing to throw out there in regards to this air tour and in some ways it's pushing the envelope but I'd be remiss in not introducing it: The Skywalk Helicopter.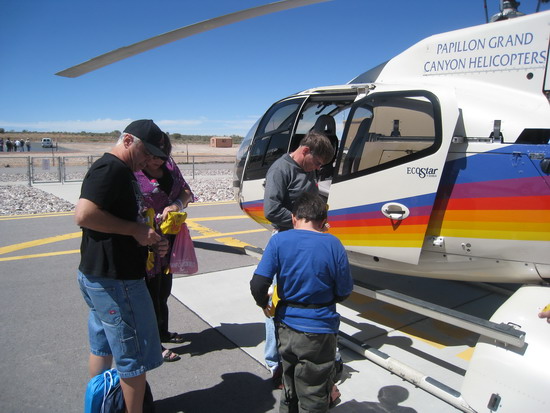 Yes, folks, the Glass Bridge beckons and incredibly there's only way to do it when it comes to helicopters and it's basically the air-only with Skywalk added on. I will go on record as saying this package is a bit pricey and that's because for the money you're still departing from Boulder instead of the Strip.
However, if you're looking for a helicopter that lands at the top of the Rim and comes with Skywalk passes, this is the best option. Plus it comes with up to 2.5 hours of ground time so you can explore Eagle Point, Guano Point, Hualapai Ranch and the Skywalk complex. The only other options to The Bridge from Vegas is to self-drive (not recommended) and the bus (a 2.5-hour drive).
Conclusion
I hope this article about the Las Vegas air-only package and its options proved helpful as you determine which Grand Canyon helicopter best suits your needs. For my part, I'm a fan of the deluxe version because of the convenience, the limo and the Vegas Strip flyover that's included on the way back. I also introduced the Skywalk add on because inevitably there are many folks who want to "walk the glass." If that's you then yes this is a trip that merits your consideration.
Until next time -