Today I want to share my thoughts on Grand Canyon helicopters that depart from the South Rim of the National Park. Please note that I'm talking about flights that originate in Arizona. If you are starting out from Las Vegas, you'll be going to the West Rim. If you need more information about the location/differences between the Rims, please read
this article
.
Now, when it comes to South Rim flights, there are two main categories: 30-minute and 50-minute. There are also a number of really cool air/ground packages and I'll get to them later in this article.
The 30-minute flight is pretty straightforward. You depart from Grand Canyon Airport in Tusayan and go from South Rim to North Rim and back. The highlight of this flight IMHO is the Dragoon Corridor, which is the widest, deepest part of the Canyon. Flying through that can only be described as "breathtaking." The 50-minute flight includes the "Corridor" as well as everything up to the Park's eastern border plus a huge chunk of the North Rim and the Colorado River confluence.
EcoStar 130
The major thing to pay attention to is the type of aircraft you pick. There are two: The Bell Ranger and the EcoStar 130. Both are excellent fliers but my preference is for the EcoStar. The reason is that the EcoStar is 25 percent bigger. It also comes with stadium-style seats and a monster-sized, 180-degree wraparound windshield. Lastly, the aerodynamics of this aircraft are superior and deliver a smoother, quieter flight.
I get travelers from around the world on my site and one of their top questions is the narration. In nearly all cases, these flights come with narrations that have been translated in up to 10 languages including English. To request a particular translation, ask for it when you check in at the terminal or during the trip-confirmation call you will get 12 hours prior to your flight. Of course, there's always the pilot's "live" narration and that's the one I usually go with.
Earlier I mentioned a couple of South Rim air/ground packages that I really like. The first and foremost is the 30-minute helicopter with Jeep tour. This package gets you two perspectives - air and ground. I've already described the aerial portion. As for the ground, you basically transfer to the Jeep after the heli, do the IMAX (tickets included) then head into the Park and drive over to Grandview Point, which is one of the best (and off the beaten path!).
Yes, Jeeps!
The Jeep gives you a lot of maneuverability so there are plenty of stops along the way to Grandview. Then it's back to Grand Canyon Village and all points in between (e.g. Mather, Yaki, etc) and to the airport. Total time for the Jeep segment is roughly two hours and I must say that once you've done this hybrid package you can honestly say you've "seen the Grand Canyon."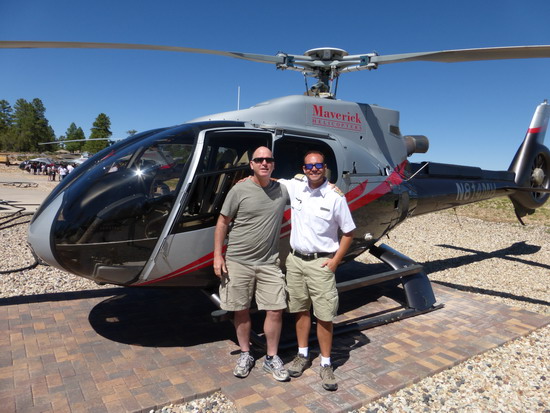 Starting March 1, all South Rim helicopters are in high demand. If you know you want to fly, I recommend you book at least a week or two prior to flight time. Do not wait until the last minute. And do not wait until you arrive at the South Rim. I've seen too many good people make the assumption that this is the best way to get the lowest price but it's flat out wrong. In fact, you'll always pay more and that's assuming you'll even get a flight. This is definitely a situation where you want to plan ahead.
Conclusion
I hope this article about South Rim helicopter tours gave you a quick overview about what I think are your best options. Of course, what's best for you is up to you based on your own research. Speaking from experience, however, my top pick is the 50-minute deluxe tour. My rationale is that if I'm going to splurge on a helicopter ride, I'm going to go all the way, and the "50" meets and exceeds expectations every time. Then there's the air/Jeep tour, which has really caught on with travelers since it was introduced late last year. But none of this matters if you don't book ahead of time. So take at least that tip to heart and we'll see you up here for the adventure of a lifetime.
Until next time -