OK everybody the results of our reader survey about Las Vegas airplane tours is out! Took me a bit to compile the data and the results are quite interesting. In a nutshell, we emailed our survey to folks who've already taken an air tour from Vegas and I want to thank them for taking the time to reply. Kudos to you guys!
So how did the LV tours stack up, right? Interestingly, the #1 flight was the Las Vegas-South Rim direct with helicopter. That one caught me off guard because if anything I expected it to be the basic version of this flight. Now it appears you guys really like adding the helicopter on as an option. Smart move!
And here's why I'm so complimentary. This SR flight in particular gets you to the National Park in under an hour. That's a huge time savings when compared to renting a car or taking a bus tour, both of which take approximately 5.5 hours ONE-WAY to reach the rim. That's just too long for me and that's why the plane makes so much sense.
Direct Flight to South Rim
Now, as for the addition of the helicopter. This particular one departs from the South Rim airport and goes through the Dragoon Corridor (the widest, deepest section of the Canyon) before turning back at the North Rim. This is no small feat especially considering it takes nearly 5 hours to drive from the South Rim to the North Rim (no joke). And this is when the road to the North Rim is open (closed from October to March). So taking on the heli according to you guys is a great value and I'm totally onboard with that.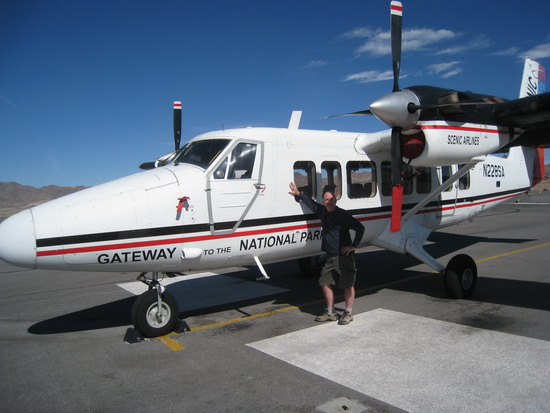 The Number Two airplane tour was the one that flies from Las Vegas to the West Rim (120 miles from LV), lands on the top and comes with a helicopter ride to the bottom and a pontoon-boat ride down the Colorado River. I frankly love this package because you get to do the to and the bottom and if you're really feeling adventurous you can buy tickets to the Grand Canyon Skywalk!
The other unique thing about this West Rim plane ride is (again) the helicopter option. Remember, the West Rim is the only place in the entire Grand Canyon where you can fly below the rim and land. You can't do it anywhere else and that's why this Vegas flight is so dang special. Plus the boat ride is absolutely phenomenal and is also a one-of-a-kind experience. Lastly, this trip includes 2.5 hours on the top so take advantage of that and get out to Guano Point, one of the West Rim's premier lookouts.
Skywalk Airplane
The final and #3 airplane tour that readers like is the one that lands at the West Rim and comes with VIP tickets to the Grand Canyon Skywalk. Frankly, if you're going to take a Skywalk air tour this is the best option, especially when you compare it the price you'd pay for the helicopter version, which is nearly twice as expensive (even more during the summer travel period). By VIP I mean tickets that let you cut to the front of the line, which is important when you have crowds swarming about the glass bridge during high season.
I need you guys to remember that we are approaching the time when Grand Canyon air tours start to sell out and this especially applies to airplane rides. One of the reasons for this is because of helicopter tours - they sell out so you have people storming airplane bookings because there are more seats on planes and thus a higher likelihood for these travelers to get airborne. The advantage for you guys who start off ONLY in search of plane rides is that you're that much closer to locking down seats for your group. But don't get complacent. Planes will get filled but just a tiny bit slower rate than helicopters so RSVP.
I've also gotten inquiries from a lot of our foreign reader/clients about narrations in their native languages. Airplane tours do offer this and they do it in up to 10 languages! There's a strong chance that there's a narration in your language. If you're a traveler who wants such a "native" narration, email me your confirmation number and I'll go in and update you booking with the language narration you want. My email is grandcanyonkeith AT gmail.com.
Conclusion
OK, I hope this reader survey of the top 3 Las Vegas airplane tours to the Grand Canyon proved insightful. I know it was for me. Remember that this survey only concerns Las Vegas flights. Go here for a South Rim airplane tour from Tusayan, AZ. I don't know if I emphasized it enough but you must RSVP these flights. Do not wait until you get into Las Vegas. Try to get your reservation in within a week of your desired departure date and time. I thank you for taking the time to read this article and I hope you reap its benefits. Have a great flight!
Travel on!