I'm getting "survey" happy and I'm glad you guys are responding. Over the weekend I polled 173 readers who've taken a Las Vegas helicopter in the past 6 months. I asked them to rate the flight they took and then I tallied up the results and got the Top 3.
The findings nearly confirmed what I've seen in terms of sales: You guys LOVE the air tour that departs from the Las Vegas Strip! Frankly, it's one of my favorites, too, because it bonuses you a ride over The Strip on the return.
This particular package also includes pick up in a stretch limo, making it ideal for travelers out to "dress and impress." Or, put another way, if you're out to celebrate a HUGE occassion, a limo is the best way to kick off an adventure that's guaranteed to leave an impression.
Paying Extra for Convenience (It's Worth It)
The final thing that about I like about this trip (and many of you agree with me) is the convenience. Instead of hopping a shuttle bus with 15 other people and making the 25-minute trip out to Boulder City, you luxuriate in a 10-minute limo ride. Makes all the difference in the world IMHO.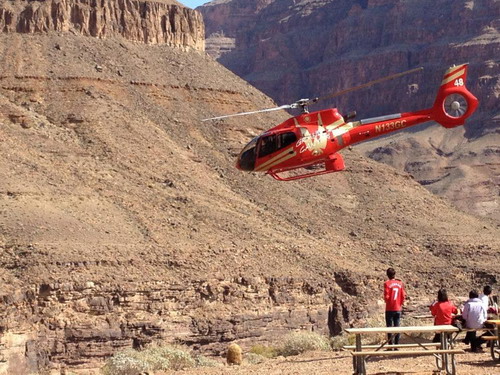 The #2 Vegas helicopter ride is another Strip departure except it lands at the bottom for a Champagne picnic. Folks, this particular tour has been a crowd favorite for years and I don't see that ending anytime in the near future.
I suspect it has a lot to do with the bottom landing. And here's the deal: going below the rim and settling at the base of the West Rim can only be done from Las Vegas. Such flights are banned at the South Rim because of noise restrictions imposed by the National Park Service.
Get Pampered by the EcoStar 130
Like the #1 Strip air tour, this one departs from Vegas, sparing you the shuttle trek out to Boulder. It, too, comes with limo service. And like NUMBER ONE, it uses the EcoStar 130, a deluxe helicopter that boasts 20 percent more cabin space, stadium-style seats and a wraparound glass windshield that guarantees everyone in the "bubble" gets a great view.
(Here's the deal with Boulder: It's a suburb of Las Vegas and it's where the lowest-priced flights originate. If you are on a budget and don't mind the commute, I strongly recommend leaving from this airport. Here's an article that I wrote about it.)
Lots of folks ask me how much time they get at the bottom. It's about 30 minutes, which is plenty of time to partake in a Champagne brunch and a stroll down to the banks of the mighty Colorado River. For the extra-curious, total flight time is a 2.15 hours, which is pretty awesome and lets you also see Lake Mead and Hoover Dam.
Here's everything you need to know about this landing tour.
4-1 Monster Package!
The NUMBER 3 tour is the one I dub the "MEGA TOUR." It's basically taking the landing tour and super-sizing it. In other words, you go to the bottom, do brunch, stroll the River, float the River on a pontoon boat, come back to top and land, do Skywalk and then spend up to 2.5 hours exploring the top of the West Rim.
The MEGA is an incredible tour and it's honestly the only one I know where you can say to yourself that "you came, you saw, you conquered." It's that comprehensive and I assure you that you'll leave no stone unturned. Like the #2 landing tour, it comes with free guide service, all taxes and fees, hotel pick up and drop off (no limo on this one - sorry, folks) and a specially prepared lunch by the Hualapai Indian tribe. When it's all said and done this is one extra-special package!
Not sure if you get my helicopter newsletter but I recommend you do. It keeps you up to date on helicopter tour prices, tours, reviews and more. But what I'm getting at is that in the last edition I warned everyone that March 1 is just around the corner and as such rates go up and availability goes down. I've been reporting on heli tours for nearly 5 years and this "cycle" is like clockwork. Thus if you're serious about getting airborne anytime soon, book your flight NOW or SOON because from hereon you'll be "riding against the wind."
Conclusion
And there you have it. My latest traveler survey of the best Las Vegas helicopter tours to the Grand Canyon. Of course, there's more than just the Top 3 but these are the perennial favorites based on my experience and I completely endorse them if you are looking for an unforgettable adventure. As always, if you need more assistance, email me at grandcanyonkeith AT gmail.com or join me in Live Chat on right side of page. I can also be reached direct at 702-530-8687.
Travel on!