Try water rafting? Do it on the
Grand Canyon River
. The river is situated amid one of the most beautiful landscapes on the planet and lets you float past towering canyons walls, secret waterfalls and hidden side canyons. It's all here and it beckons everyone from the most experienced rafting enthusiast to the absolute beginner.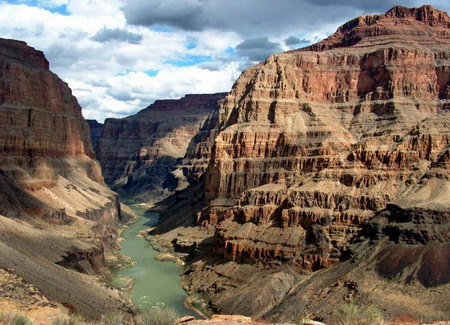 Grand Canyon River - A Force of Nature
This part of the American Southwest has no rival. For millions of years, the river has been steadily grinding away 217-miles worth of soil and rock to form the Grand Canyon. This process has also resulted in colossal cliffs that soar up to 6,000 feet and expose layers of primordial rock that radiates a solid rainbow of color and texture, an effect that becomes extra pronounced after a summer Monsoon rainstorm.
The Grand Canyon River (a.k.a. Colorado River) actually covers many more miles than just the Grand Canyon. It starts at the Continental Divide in Rocky Mountain National Park in Colorado and continues on for 1,450 miles through Utah, Arizona, Nevada and California until it spills into the Sea of Cortez in Mexico. On the way, the river crosses 20 dams, including Hoover Dam near Las Vegas, NV.
Rafting and other tours and vacation opportunities are governed by the rules and regulations of the Grand Canyon National Park and Grand Canyon River Permits Offices. These guidelines are in place to protect the park, the river and the visitors who enjoy them.
Grand Canyon River Rafting
There are lots of river outfitters and tour companies who are familiar with the rules and regulations. These tour operators can tell you in advance what to bring and they furnish all the equipment and food. Booking with one of these experienced companies will assure you a fun adventure without confusion and complications. Reserve your Grand Canyon River tour in advance. These trips are popular with families and groups and sell out quickly.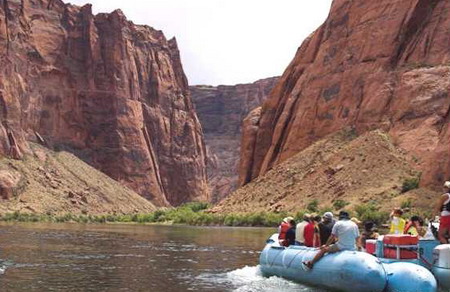 There are several different types of river trips from which to choose, including multi-day, whitewater rafting adventures and smooth-water float trips. Here's a breakdown:
Expeditionary style trips. Start at Lee's Ferry, which in the past was the only place to cross the Colorado River for hundreds of miles before the Navajo Bridge was built. Tours last from three to 21 days. All skill levels welcomed. Costs determined by length of trip and equipment.


1 day rafting tours. Leave from South Rim and start at Glen Canyon Dam in Page, AZ. Float 15 miles downstream to Lee's Ferry. No rapids or whitewater. Kids 4 years and up can do it. Includes Horseshoe Bend and a side trip to see Indian petroglyphs. Bus back to Tusayan and Grand Canyon Village. Includes lunch. Bring sunscreen, a hat and water.
Let the Adventure Begin!
There are many types of Grand Canyon river tours available. I for one am a big fan of the one-day smooth-water trip. If you want more, consider a whitewater adventure. If you are not physically ready for a rafting trip, try a Grand Canyon bus, helicopter or airplane tour. Go here for Grand Canyon tour reviews. The main thing is that you get to enjoy this World Heritage site in a way that works for you.
Make It a Grand Day!
P.S. There are several variations of the Grand Canyon River 1 day smooth-water float tour from South Rim. Your choices include the deluxe version, which includes an airplane flight and an Antelope Canyon Jeep tour, or the basic, less-expensive one that provides bus transportation to and from the river. No matter which you choose, you can't go wrong either of these rafting day trips.