The South Rim of the Grand Canyon is a great place to vacation. Things to do include hiking Bright Angel Trail, taking a mule ride to Phantom Ranch, and participating in a ranger-led workshop. But the king of activities is rafting the Colorado River.
One-Day Grand Canyon Rafting Tour
This tour is by far one of the most awesome at the South Rim. Leaves from Grand Canyon Village and goes to Glen Canyon Dam in Page, AZ. Detour down a 2 mile service tunnel to the base of the dam. Board an adventure-grade pontoon boat for 15-mile float ride. Experience stunning Horseshoe Bend. Pull out on a sandy beach and hike to real petroglyphs (ancient Native American rock art). Trip concludes at historic Lee's Ferry. Return aboard a luxury motor coach with a stop at the Cameron Trading Post (excellent for Indian handicrafts). Total trip time is about 12.5 hours.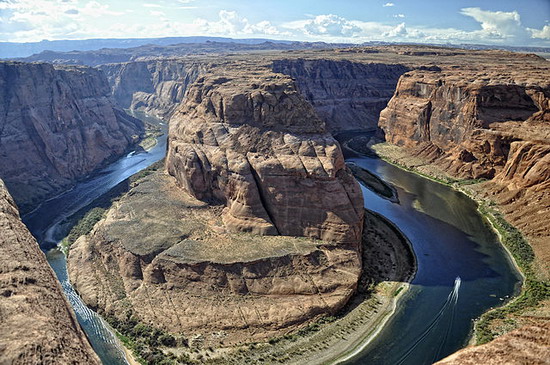 Photo: Paul Hermans - Licensed via Wikimedia Commons.
Grand Canyon Rafting: Choices!
There are two variations of this tour:
Standard - Bus transport to Glen Canyon Dam. This is the cheapest option.



Deluxe - Airplane flight to the Dam. Transfer to 4x4 Jeep for Antelope Valley tour. Then start float tour.
Choosing between the two depends on budget. I'm a big fan of the deluxe trip. The aerial views are incredible, and the guided, off-road tour of Antelope is incredible. The float segment is the same for both.
What's a Smooth Water Float Tour?
Most people associate Grand Canyon river rafting with three-day white-water adventures. This particular trip is classified as "smooth water," which means there are no rapids and no white-water. The tranquility of this trip also means kids 4 years of age and older can do it.
Things to Bring on a Float Trip
These river rafting tours are all-inclusive and come with transportation to and from the South Rim (Grand Canyon Village), lunch, drinks, and a professional river guide. I also recommend that you pack:
Sunscreen
Brimmed hat
Water
Long-sleeved shirt
River sandals or water booties
Extra set of dry clothes
Dry bag for your camera (most likely included)
Light snack/li>
Glen Canyon Dam
This Dam is the second largest on the Colorado River. It's an epic structure, whether it's seen from the air or ground. Check out these numbers:
710 feet high
1,560 feet across
Made of nearly 5 million cubic yards of concrete
25 feet wide at the top, 300 feet wide at the bottom
Rises 583 feet above the Colorado River
To get to the Colorado River, all transportation must got through the Dam's 2-mile service tunnel. Pontoon boats are docked at the base of the dam, which rises 71 stories above you.
Lee's Ferry
Mormon Settler John D. Lee built the ferry crossing between 1871-1872. From the late 19th century to the early 20th, the location was the primary place to cross the Colorado River on the route from Moab, UT, to Needles, CA. The ferry closed in 1928 when the Navajo Bridge opened in 1928. Today, an old fort and trading post still stand. It's here where all white-water rafting trips start.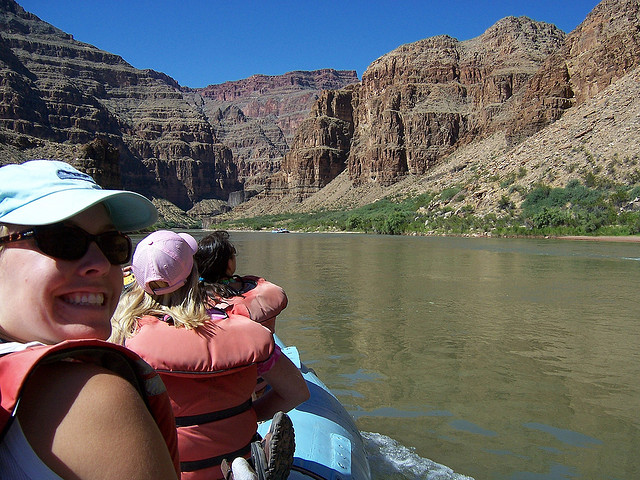 Photo: Ryan Harvey - Licensed via Flickr.
Booking a Grand Canyon Rafting Tour
These smooth water float trips are seasonal and run from April to November. They are extremely popular. If possible, book your 1-day float trip at least a week in advance. These tours are already a great value. But if you want the best deal (and who doesn't, right?), buy it online. You can save a bunch on group and family bookings if you RSVP on the Web.
Ready for River Rafting?
Grand Canyon river rafting is by far the best family or group activity available at the South Rim. These all-adventures let you experience the canyon from the ground up. If you go deluxe, you also get a fabulous air and Jeep tour. I especially like these 1-day smooth water float tours for their comprehensiveness. Do one and you'll have really "done' the canyon.
Optionally, here's a 1 day white water trip that's getting rave reviews.
Cheers!