Today I'm going to turn the spotlight on Las-Vegas based Papillon helicopters. This company offers a full range of tours (I'll be posting about that later) but their bread and butter is helicopter rides.
And I must say this company has it down to a science.
Papillon's been flying folks to the West Rim and the South Rim of the canyon since the late 1960's. Today, they're now getting around 500,000 people a year to the GNCP.
Not shabby.
And as you'd figure, they've been able to optimize their business, especially when it comes to price.
I don't care where you look, Papillon's prices are the lowest. Sure there's a couple of operators throwing inventory on Viator and taking a loss. But that's the exception not the rule.
So how does Papillon do it? They have several things working for them. The first is volume. The concept worked for Wal-Mart so why not for air tours, right?
Huge Fleet
I've heard Pap has a fleet of 60 helicopters. I can't verify that but it's one I've heard on multiple occasions. I'm also going to divine that some of that fleet is parked at the South Rim airport at Tusayan, AZ.
No matter how you slice it, that's a lot of seats to fill. And to fill them, you've got to be aggressive and prices are a great place to start. Is it working? Yes, because over the summer I ran into sell-outs nearly daily.
However, I sense change. Of late, I've noticed prices bouncing around like a ball. On multiple occasions, I discovered Pap's online prices (this where the cheapest live) were equal to or at times more expensive then some of their competitors.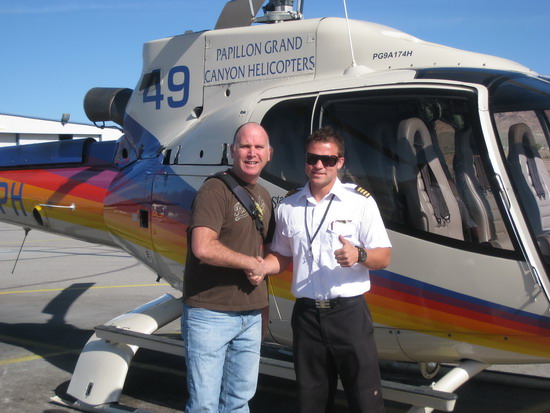 Granted, this wasn't the norm. But for those of us in the business, it was surprising and told us that Papillon was breaking from its roots and adjusting prices based on demand. And who can blame them. It's business.
Winter, fall and spring are different propositions. This is where Papillon eats the competition for lunch on price. Don't even bother shopping the others if you are price sensitive. Pap's your ticket, particularly when it comes to the air-only tour and bottom-landing package (both fly out of Vegas).
They're Everywhere!
Papillon's other advantage is its terminals. The company takes off from The Strip, Boulder City and Tusayan, AZ (South Rim). If you book a Strip departure, you'll pay a premium and the price will be a little less than the competition but not by much. The advantages here are convenience and the limo pick up/drop off.
If you are looking to snatch that low-price air only deal, you're flying out of Boulder. Same goes for bargains on bottom-landings. Understand that Boulder is a 30-minute shuttle ride from your Strip Hotel. On top of that, the shuttle has to pick up other passengers. In all, you're looking at a pre-flight pick up that hovers around 1.45 hours prior to flight time.
Some flyers might not like Boulder transport situation and that's fine - there's always a Strip departure. But if you want to keep costs low, do Boulder. Frankly, I don't find the shuttle over that bad but I'm easily amused. I will go on the record as saying that the limo pick up to the Papillon terminal on Tropicana is quite nice (and a must if you are doing a special occasion).
You Want It, They Go It
Papillon offers aerial and landing packages. As noted, aerial is your cheapest option. It gets the job done and does it quick. Total tour time is 3 hours and that includes the shuttle pick up/drop off. Not bad if you're strapped for time or looking for nice sampler flight.
However, landing tours are the crème de la crème. They let you smell, touch and breath the canyon. They also cost more and they're worth every cent. The most popular is that bottom-landing package (it comes with a Champagne picnic). Following on its heels is the trip that does bottom, boat, top and Skywalk. Then there's a direct flight to the Skywalk.

Click Here & Get the Free Report Now!
Papillon has a huge presence at the South Rim (its terminal is the largest). The company offers two flavors of flights: a 30-minute and a 50-minute. The difference is the aircraft. Basic flights will use something like the AStar, which is a great "bird" but cramped. The deluxe features the EcoStar 130 and it has 25 percent more cabin space and a ton of extras that make it superior.
Minutes Matter
As for flight times. Obviously, the 30-minute is cheapest. Like it's sibling that flies out of Las Vegas, it's a great way to sample GNCP as it goes from the South Rim to the North Rim and back. For many, that's enough. However, I'm a HUGE fan of the 50-minute flight. To my mind, it stands the "30" on its head. Specifically, it does everything the shorter does and all sights up to the Park's east boundary. You also spend more time over the North Rim.
Papillon's cancellation policy is one of the best in the business. In sum, it lets you cancel your flight 24 hours prior to take off. Others require 48 hours so this is a major advantage for Pap travelers in my opinion. Further, if weather forces a cancellation, you get your money back no questions asked or you can reschedule for later in the day or week.
The benefit of a solid cancel policy is that it lets you plan ahead. And I urge you to do just that. The rule of thumb on this matter is to RSVP at least a week in advance and if you can get more days between you and your flight do it. This benefits you in multiple ways. The key one is price. The farther out you book, the lower the cost. It's always been like this and I don't expect it to change. Furthermore, you get to select from the best times and tours.
Conclusion
Go Papillon if you are looking for value. Their prices are the cheapest and they have a great selection of flights. Do note that you will be flying out of Boulder City in order to get the promotional flights and hot deals. Most shouldn't mind this as you can save up to $100 and more if you are couple. The savings go up from there the more people flying.
Aerial tours are the perfect option for budget travelers or for those who need to quickly sample the best the canyon has to offer. However, to really experience the canyon, you've got to land. Interestingly, bottom-landing tours are only available form Las Vegas, so please note that. I get a lot of calls from folks asking if this happens at the South Rim and it's not the case.
Please make sure you get your seats ahead of time. This takes a significant amount of stress off you when you arrive in Las Vegas or Phoenix, etc. It also ensures you get a rate that's fair as well as a tour that leaves when you want to leave. I meet so many travelers who sweat the details but do their tour bookings upon arrival. Not recommended. I say get the tour logistics done right after you get your trip's dates figured out. Then leave the flying to Papillon.
Travel on!