So, you've made a smart decision - you decided to explore the Grand Canyon during your next vacation! It's an exciting choice, but you still have a few more decisions to make.
Naturally, you'll want to book a Grand Canyon tour package. Your options include bus, airplane and helicopter tours. Each type has its advantages. You'll need to decide which type of tour fits your interests and budget, and then choose the best company.
Before booking your tour (which I strongly urge you to do in advance and online at the tour company's website), you'll also need to decide which part of the canyon to visit - Grand Canyon West (the West Rim) or the South Rim. Both areas are spectacular, but most people think of the South Rim as the "real" Grand Canyon. Whether you'll be coming to the National Park from Las Vegas or from somewhere in central AZ (like Sedona, Scottsdale, Phoenix or Flagstaff, for example), you'll need to decide which one is the most appealing. Here's some basic information about each rim's highlights...
The South Rim is all about Nature
I have to admit that I'd be hard-pressed to think of any place in the world that beats the South Rim when it comes to spectacular vistas that show off nature and her glory. From central Arizona it's easy to get there, but it's also just a bus or plane ride away if you'll be coming from Vegas (there aren't any South Rim helicopter departures from Vegas because of the distance). The bus from Vegas takes about 5 ½ hours, but the plane flight is only about 45 minutes, so I strongly suggest taking that option. Your opportunities for excitement and adventure at the South Rim are more limited than at Grand Canyon West, but it's the best place on the planet if you're looking for scenic beauty.
That being said, it's hard to picture anything more breathtaking than a rim-to-rim chopper flight through the dramatic Dragoon Corridor (the widest, deepest section of the entire canyon). Other South Rim points of interest include Grand Canyon Village (home of several museums, gift shops, restaurants and hotels), Yavapai Point and Mather Point.
The West Rim Focuses on Excitement and Adventure
Most travelers don't realize that Grand Canyon West is actually located on the Hualapai Indian Reservation, just next to the National Park. That doesn't stop you from finding thrills, excitement and adventure almost everywhere you look.
Grand Canyon West has something for everyone. Take the fabulous Grand Canyon Skywalk (the "Glass Bridge"), for instance. It's an amazing glass U-shaped structure that perches right over the edge of the Rim. You can actually walk out 70 feet past the canyon's edge, and because the bridge is glass, you can see the canyon floor that lies some 4,000 feet beneath your feet! Kids love it, but so do adults.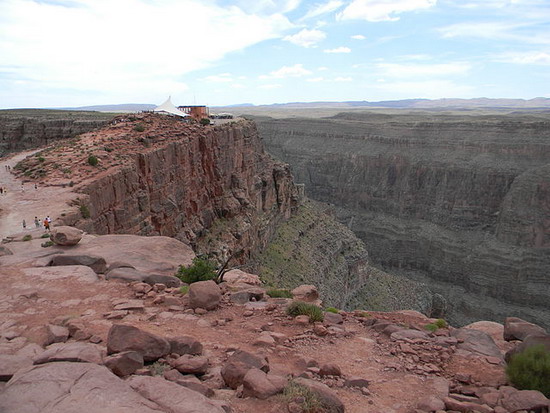 Photo: Laslovarga - Licensed via WikiMedia.
At Grand Canyon West, you can also take an exciting chopper flight down to the canyon floor. It should be noted that such flights are only available at the West rim; the FAA has banned them from the South Rim in order to reduce noise pollution. Once at the base, you can hike around the bottom, enjoy a Champagne picnic, or take a smooth-water raft trip down the Colorado River (the river that carved out the canyon over millions of years).
Tours for the most part are all-inclusive. That means they come with nearly everything you need to enjoy the National Park, including free hotel pick up and drop off, lunch, all park entrance fees and professional guide service. Las Vegas-based tours are more inclined to be all-inclusive than those found at the South Rim. This is because South Rim travelers usually drive themselves to this section of the Park and thus have their own transportation. That said, all 1-day smooth water rafting tours include complimentary shuttle transportation to/from Tusayan hotels and in-Park lodging like Maswick, Kachina and El Tovar.
Book Early!
Earlier in the article I off-handedly mentioned that it's best to book a guided Grand Canyon tour in advance. I'd like to dive into this subject a bit more because of its importance. Rule of thumb for me is to always book this tours a week or so prior to getting there. If you're in "scramble mode," you'll probably be able to get what you want if you buy 72 hours in advance (all bets are off, however, if you are booking during the summer months). Forget same-day reservations, especially if you are a group of two or more people.
It's common these days to run into the harried traveler who has spent hours or perhaps days hunting for the best deal possible. That's no fun, so let me save you the frustration. When it comes to getting the lowest price, book direct with the tour supplier. It's these companies that actually own and operate the tours and so they have the ability to price their products lower than the competition. Relatedly, don't confuse Expedia, Priceline and Hotwire as tour suppliers. These companies are brokers and basically sell whatever lands on their laps without any of the cancellation protection you'd get if you bought direct.
Wrap Up
As you can see, both rims are terrific places to visit. Your choice boils down to whether you prefer unspoiled nature (the South Rim) or excitement and adventure (Grand Canyon West). You won't go wrong either way!
Make It a Grand Day!