There are a slew of helicopter tour companies that operate out of Las Vegas. I just posted an article about
Papillon Helicopters
and how they are the "value leader." But what if you want the best and are willing to pay for it?
That's where Maverick comes in.
Maverick began as an upstart helicopter company in the 90's. It started with a couple of EcoStar 130s and through word of mouth it grew its business and its fleet.
Superior Aircraft
Currently, Maverick operates the largest fleet of EcoStar 130s on the planet. This is important to note because it means every flight to the canyon (or over The Strip) is on an EcoStar.
Am I making too big a deal over the kind of aircraft? I don't think so, especially when you consider the EcoStar boasts 25 percent more cabin space than its siblings.
Space is important but so is seating. This helicopter is equipped with stadium-style seats. Or, put another way, the kind you find in high-end movie theaters. On top of that, the aircraft comes with a huge, wraparound windshield, and that's a major bonus because you get terrific, unobstructed vistas.

Click Here & Get the Free Report Now!
Maverick has terminals at Las Vegas and South Rim. The Las Vegas location is right on The Strip and super convenient. Depending on which resort-hotel you are staying at, getting there is a quick 10-minute drive. The South Rim terminal is located at the south end of Grand Canyon National Park airport.
Few more words about the Las Vegas terminal location...
Mav's Strip operations are right across the street from Mandalay Bay Resort. Peer through the fence and you'll see four helipads from whence a constant stream of EcoStars depart for the West Rim. The inside of the terminal is upper crust and modern. But the key thing about departing from this location is that you'll fly over The Strip on the way back from the canyon. That's a huge bonus.
Types of Tours
Maverick offers trips to the West Rim from Las Vegas and to the South Rim from Tusayan. From LV, you can do an aerial or landing tour. From Tusayan (GCN), aerial is your only option. Indeed, competing operators have a similar menu of flights. But what separates Maverick are it's aircraft, its pilots and it's routes.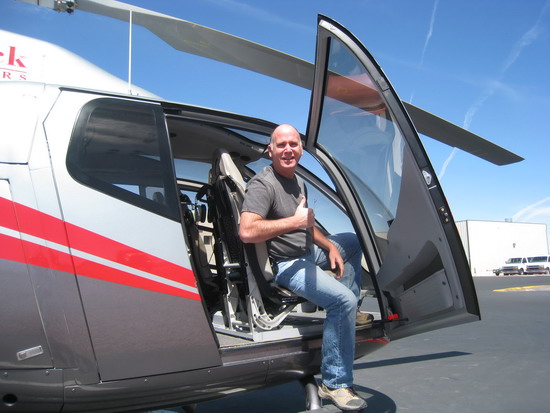 Let me dive into this some more...
I've already shared with you why I think the EcoStar is superior. As for pilots, these guys are good. Of course, all of them (including the competition's) are excellent. What I'm stressing is how good Mav's are at adding value to your trip. I find their pilots have mastered the landscape and the history of the canyon. It's an aspect that really enhances the quality of the flight IMHO, especially because you can interact directly with them via the digital communication system.
For the most part, all helicopters follow the same flight path to and from the canyon. Of course, there are deviations based on your departure point. And then there flights that simply break the mold. The standard route by all companies flying off the Strip go over Lake Mead, Hoover Dam and the West Rim. From there, you land at the top, bottom or circle back to LV. Maverick follows the same guidelines, but they have one tour that goes over the Valley of Fire, which is phenomenal.
Land on the Bottom!
I also like their bottom landing packages. In this instance, helicopter companies have to strike a deal to land there with the Hualapai Indian Tribe, which owns the West Rim (it's on their reservation). To Maverick's credit, they negotiated a terrific location at the bottom. It's secluded, private, and the amenities are top-rank. If you are fortunate enough to take this flight, make absolutely sure you take a walk to the Colorado River. Going to the bottom of the canyon is only available at the West Rim and so you are going to want to make the most of it.
I hinted earlier in the article that Maverick isn't your cheapest option. And I hope I've made the case why. But I have one more point to make on this issue. If you are in Las Vegas to celebrate a special occasion like an engagement, a birthday, a proposal or an anniversary, you're going to want to consider going with the best. This is where Maverick really shines. Everything from the aircraft to customer service is 1st class. Thus if you are out to impress or make a special moment, this company strongly deserves your consideration.
Maverick has a very equitable cancellation policy and gives you 24 hours to call it off in the event your plans change. Same goes if there's a weather issue. I think it's important to note this because part of enjoying a successful trip is to plan it. And to do that you need contingencies and assurances and I think Maverick really delivers on this point. Do be aware that Maverick has a weight-limit surcharge for passengers that exceed 300 pounds. I don't like it but I understand it. Why? Because space on helicopters is limited to six people and the total weight of all passengers. I've always chalked it down as a necessary evil.
Conclusion
That wraps up my quick review of Maverick Helicopters. The key thing I'd like you to take away from this article is that Maverick Helicotpers is your option if you want to fly 1st class. Of course, the best costs more, but in Mav's case, you get what you pay for and more. Every flight uses an EcoStar 130, so you know you'll be on one regardless if your flight is an air or landing tour. If you are in LV, you will be taking off from the Vegas Strip, which also ensures that you'll fly over the Strip on the way back. So make your flight to the Grand Canyon an experience that will last a lifetime. Go Maverick.
Travel on!